Your Guide To Disc Golf In Perth
Discovering disc golf is a bit like falling in love - first, you can't believe your life existed before knowing about the sport, and you do everything you can to fill your day with it. You'll spend time learning about which discs are best for which shots, and you head out to the course as often as you can to practice your newfound skills. Like many great loves, disc golf will be a part of your life, for the rest of your life, because it makes you happy.
If this sounds familiar, you're likely a disc golfer, but just because you've taken an interest in the game doesn't mean you necessarily know how to get the most out of this new hobby. For those who live in Perth, a wealth of opportunities await you in the form of courses to play and clubs to join. Let's take a brief look at the history of the sport in Perth and then dive right into how you can be more involved!
It Started Way Back When
Before live broadcasting and social media, people's exposure to disc golf was certainly a lot lower. However, the sport first took hold in Perth as far back as the late 1970s and has only grown from then. While it may have been slow to gain a huge following, Perth disc golf was initially played on a course now known as the Rob Hancock Memorial Disc Golf Course. In 1985 it was an object course only it became the only layout in the area and possibly in all of Australia! Later after its formalization in 1987 by the City of Wanneroo permanent baskets were installed in 1989.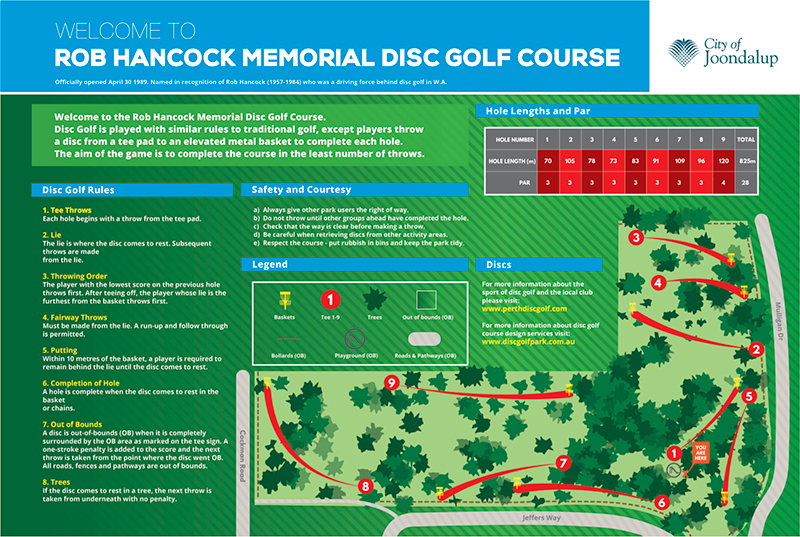 Fast forward to 2014 and the disc golf scene here underwent some major changes with the introduction of Mundaring Disc Golf Park. The founder of RAD and Frisbee Shop wanted to make a huge impact on the sport and this top of the line course was a huge step toward showing the rest of Perth just how professional disc golf can be, this venue was installed to allow players to become accustomed to the type of length found on the international circuit and with facilities to allow large events to be run and to grow around it as the Disc Golf scene in Perth grows. Since then, the community has exponentially grown to around 11 courses in the Metro area, so let's uncover some ways that you can get involved in your local disc golf scene.
Part Of The Club
Playing disc golf on your own can be a lot of fun and provide a great way to escape for a few hours, but becoming immersed in your local community offers an excellent social benefit that you only get from playing with others. Both the Perth Disc Golf Club as well as the Mundaring Sporting Club offer events, tournaments, and more to help you stay connected.
Both clubs have members of all different skill levels and backgrounds, so whether you're a brand new player or you've been throwing plastic for a while, you will find others just like you. Disc golf clubs in Perth are a great way to connect with other like-minded individuals for the times when you want to play a casual round, need to know about tournaments, or even want to volunteer to help spread disc golf to other parts of the area.
New to the scene in the last year was the introduction of West Coast Disc Golf and especially the Little Huckers, created to allow youth to have some time to play together and to get some coaching to foster the growth of juniors for the future. 
Where To Play
Disc golf is quickly growing in the greater Perth area, and while there was only one course available for many years, players now have a ton of options to choose from. Check out our list below or check out this map compiled by RAD:
Chichester Park Disc Golf Park
Rob Hancock Memorial Disc Golf Course
Alexander Heights Disc Golf Park
Dick Lawrence Oval Disc Golf Course
Posted on September 20 2019